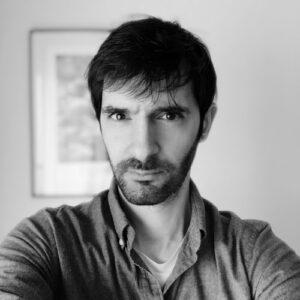 Marc was born in 1979 in France. Passionate about drawing, he was drawn to comics because of his need to imagine new worlds and to tell his stories. He grew up reading Tintin, Spirou, Lucky Luke… He discovered popular comics with Uncle Scrooge and Mickey. Those names would become his influences and standards. He then went on to discover animes and fell in love. As a teenager he read mangas and comics but also discovered new worlds through video games.
All of those influences shaped him into a writer of popular comics for children and teenagers, with a quirky, funny and generous content and topics that he feels passionate about: ecology and environment, social mixing, transmission between generations… Marc is both an illustrator and a scenarist.
In 2015 he published his first comic, Professeur Infini, with Gallimard. In 2018 he published Feya, a science-fiction comic about ecology, which was nominated at Angoulême and won a prize at the Angers fair. Finally, he published Alcibiade in 2022 with Glénat, a comic scenarised by Allan Barte and drawn by Marc.
Together, we are working on a new comic for a younger audience aged 7-11. If you like pets, adventure and superheroes, you'll love it! If you are interested, please reach out at contact@revesdejeunesse.fr. Furthermore, if you are interested in buying the foreign rights to his already published comics, please reach out directly to his publishers except for Feya: for this one you can contact us at droits@revesdejeunesse.fr. It is available in France as well for a republication.